JS7 JobScheduler Key Topics
The JS7 JobScheduler in a Nutshell (pdf) presentation will give you an overview of the most important JS7 JobScheduler topics. You will find excerpts from the presentation below.
JS7 JobScheduler allows you to optimize and increase your performance by automating your IT tasks and file transfers (FTP, SFTP, etc.) thanks to a unique WEB interface, which facilitates the creation, administration and supervision of your environment in real time.
With JS7 you can automate complex workflows without compromising your business processes.
JS7 is designed to meet the requirements of large IT infrastructures and ensure a scalable and agile product. You take control of your environment and gain security, productivity and performance.
The JS7 JobScheduler provides performance for your IT production while consuming minimum resources:
+1,000,000 Tasks +200,000 Workflows +20,000 Parallel Executions
Architecture: Components
JS7 JobScheduler components consist of the JS7 JobScheduler JOC Cockpit user interface (monitoring and control in near real-time) the JS7 Controller (manage configuration, orchestrate Agents) and the JS7 JobScheduler Universal Agent (execute jobs on any machine in the network).
Architecture: Platforms
The JS7 JobScheduler Controller, JOC Cockpit and Web Service are available for Windows and Linux platforms.
The JS7 JobScheduler Universal Agent can be operated on Windows, Linux, Solaris, AIX, HP-UX, Mac OS
and any platform that supports a Java Virtual Machine.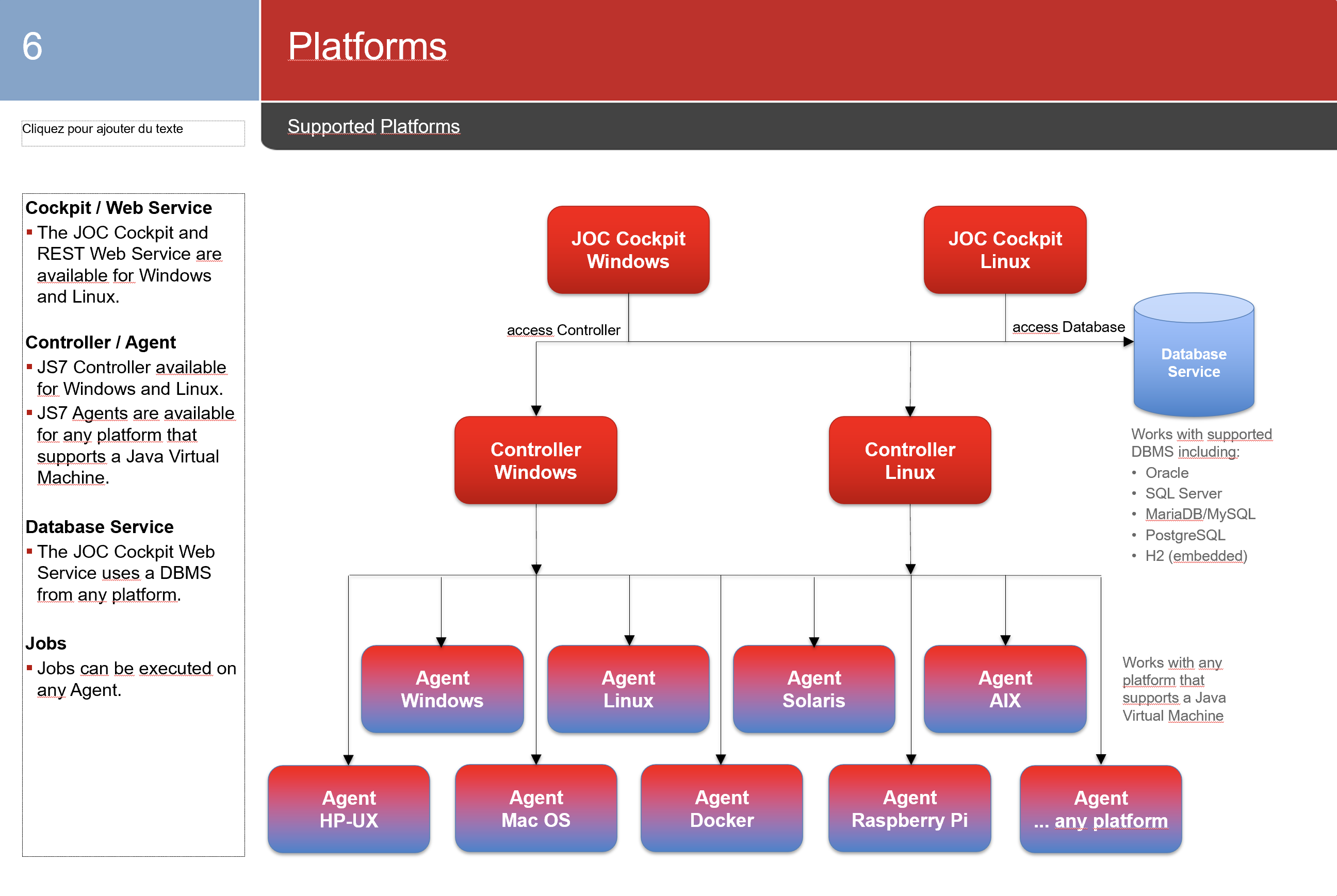 Features: JOC Cockpit
JOC Cockpit, the JS7 JobScheduler Operations Center GUI brings a completely new user experience to your browser, featuring highlights such as security, responsive design and near real-time information. Find a full list of Features.